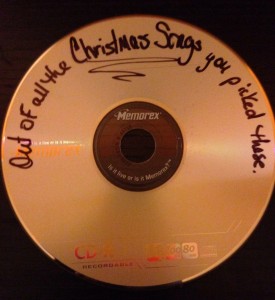 Just in time for the holiday season I give you my Christmas 2008 playlist Out of All the Christmas Songs You Picked These.  Never mind that it's five years old it is a golden.  Last week on Facebook friends were posting their favorite holiday songs and it reminded me of a cd I made for a three-hour drive to my home city.  I remember when I created it I wanted to have songs for everyone who hopped in my car.  This cd (and yes it is an actual cd) has songs on it for "kids from 1 to 92".  You need booty bass music? I got you.  If Grandma's in the whip and you need gospel is what you want, I got  you covered too.
I'll give you the Rdio playlist and the Spotify playlist although they both are slightly different from each other and my original mix.  My all time childhood favorite "Hang Up Your Stockings" by The Chipmunks can't be found on either of these platforms, but don't fret it's added below for your listening pleasure.  Spotify is missing Boyz II Men's "The Birth of Christ" and there's no way I can get through the season without hearing  Mike sing bass on the second verse. Oh and let's not forget  Mariah getting her life on "Jesus, What a Wonderful Child."  I almost forgot home girl use to blow! My favorite Christmas song of ALL times though is Donny Hathaway singing "This Christmas."  Check out all of these below.
What are some of your favorite Holiday Songs?
Hang Up Your Stockings by The Chipmunks
The Birth of Christ by Boyz II Men
Jesus, What a Wonderful Child by Mariah Carey
This Christmas by Donny Hathaway