"I Used to Love H.E.R." is a hip hop classic from rapper Common's (then CommonSense) 1994 Resurrection album. Producer No I.D. looped very small samples from George Benson's "The Changing World" to create a simple canvas for Common to profess his love of hip-hop. In the song, Common personifies hip-hop as a woman. The acronym "H.E.R" has been said to mean Hearing Every Rhyme. I've also seen it as Hip-Hop in its Essence is Real, although I lean toward the former.
He starts with his first introduction to hip-hop and establishes its foundation in old school soul, and New York roots . He continues the first verse explaining his relationship and admiration for the art itself. The second verse goes into when hip-hop moved from the streets, to clubs and its transition to pro-black and non-violence era. The second half discusses hip-hop's journey to the west coast, and the branching out and merging with other styles of black music. The last verse expresses hip-hop's commercialization and its departure from the original inner-city topics and influences. He also continues with how the west coast influenced hip-hop and how often it referenced violence, drugs and alcohol. He also speaks of how many "artist" dabbled in hip hop. He wraps it up saying he hopes the "artist" that don't care about it will eventually leave it along and declaring he will take it back.
Common Sense: I Use to Love H.E.R.
Five years after Common's original love letter to hip-hop, on the album critically acclaimed album Things Fall Apart, The Roots proclaimed their passion for it with "Act Too. . .(the Love of My Life)" which featured Common. It opens with Black Thought vividly describing the feeling of a live performance then flashes back to his youth detailing how hip-hop affected his life, and how it has continuously been a part of his life's story. He continues his profession on the remix. Common steps in for the second verse with 24 bars jammed packed with metaphors and hip-hop double entendres. So many in fact that if you aren't already privy to the culture you'd need to look up the lyrics for yourself. He discloses his perception of how he lost a bit of respect for the genre due to the off shoots of hip-hop, his displeasure with how many people took advantage of the art, how much it changed its deviated from its element. By the end of his verse he resolves that hip-hop is ever-changing and remains an important part of his life no matter the shifts and changes it goes through.
The Roots: Act Too . . .The Love of My Life
In 2002, Erykah Badu teamed up with Common to write the Grammy winning hit "Love of My Life (An Ode to Hip-Hop)" for the soundtrack of Brown Sugar. It, like the movie and the other songs featuring Common, personifies hip-hop. Erykah's version turns hip-hop into a guy she met at a young age and went from being a friend to a true love. It also features a verse from Common, who reminds how us how in the past he felt the needed to leave hip-hop alone because of the commercialization and the popularity it met during its "bad boy(s)" era. He then points out he's in love again and now sees that era as growth for the genre. It surprised me that a few people I've talk to said they didn't realize the song was about hip-hop until after they saw the video. The video, which opens with a cassette tape playing The Roots "Act Too. . .", chronicles stages and life of hip-hop. It like visualizes Common's original song moving through eras from, NY's inner city streets, breaking, gold chains from his first to the afro-centric pro-black stage of his second verse. She continues bringing his words to life showing the emergence of the west coast gangster age, along with how hip-hop spread across the nation. The video depicts the chopped and screw southern influence, the marketing and "selling out" of hip-hop and how it left the city and moved to "the burbs, looking rock and dressing hippie" and ends with her on a bus to the future of hip-hop.
Erykah Badu: Love of My Life (An Ode to Hip-Hop)
Murs and 9th Wonder did a cover of the original piece called "I Used to Love Her (Again)" in 2010 for their album Fornever. Where No I.D. choose a 9th Wonder sampled "I Must Be in Love" by Black Nasty maintaining the songs soulful feel with a boom-bap beat of classic hip-hop. What's interesting about Murs covering this song is that he is from the west coast. It's no secret that Common's song left the west coast feeling disrespected and led to a beef. Murs added a few subtle west coast details. He kept the first verse the same and took a departure from the original tune halfway through the second verse. The changes in the second verse are subtle and mainly alters what happens when hip-hop moved to the west coast from the perspective of a native Californian. The final verse is what brings us to present day updating us on what happened between the 1994 to the 15 years that followed Common's song including auto-tuning and the bling era.
CLICK below to see changes in 3rd verse up close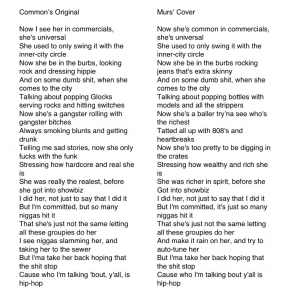 Murs and 9th Wonder: I Used to Love Her (Again)
Purchase Featured Music:
ON iTunes
"Act Too (The Love of My Life)"
"Love of My Life (An Ode to Hip Hop) [Longer Version]"
ON Amazon
I Used To Love H.E.R. [Explicit]
Act Too (The Love Of My Life) (Album Version (Explicit)) [Explicit]
Love Of My Life (An Ode To Hip Hop) (Longer Album Version) [feat. Common]
I Used To Love Her (Again) [Explicit]